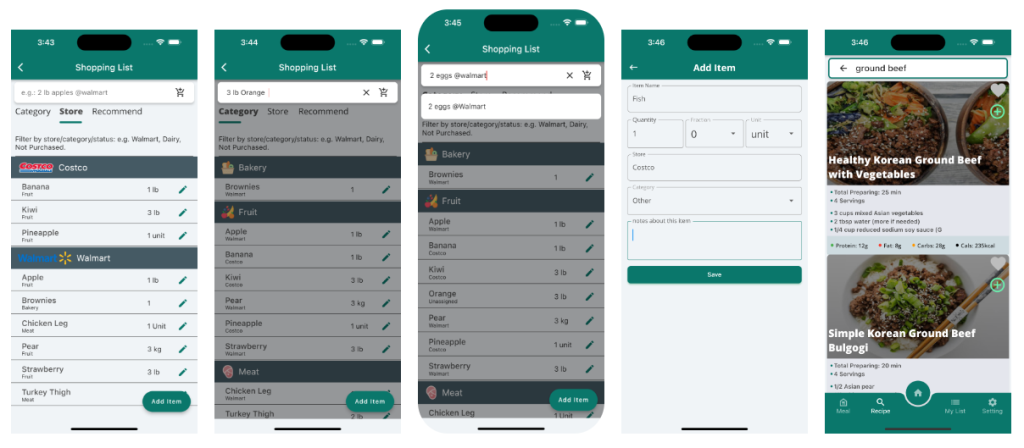 Bravarb (www.bravarb.com)  is not just your ordinary grocery shopping list management app; it is a powerful tool designed to boost your productivity while promoting a healthier lifestyle. By seamlessly integrating grocery shopping list and school supply list management with meal planning, calories tracking, and intermittent fasting functions, Bravarb empowers you to take charge of your daily needs with a holistic approach.
Grocery Shopping List Management
Let's start with grocery shopping. Bravarb simplifies the process by allowing you to create and manage comprehensive shopping lists effortlessly. From everyday essentials to special dietary requirements, you can easily add items, categorize them, and even set reminders to ensure you never miss a thing. Bravarb becomes your personal shopping assistant, making your trips to the store more organized and efficient.
Simplifying School Supply Shopping for Parents
Bravarb understands the challenges that parents face when it comes to preparing their children for school. That's why we have developed a comprehensive School Supply List function to help parents efficiently find and manage their kids' school supply requirements. With Bravarb, you can bid farewell to the confusion and stress of back-to-school shopping.
Plan Healthy Meals with Bravarb's Meal Plans
But Bravarb goes beyond just shopping lists. It also offers meal planning capabilities, helping you design nutritious and balanced meals for yourself and your family. With customizable meal plans, you can create weekly menus, optimize ingredient usage, and reduce food waste. By seamlessly aligning your grocery needs with your meal plans, Bravarb saves you time, money, and the hassle of last-minute meal decisions.
Track Calories and Achieve Your Health Goals
Furthermore, Bravarb understands the importance of health and wellness. Its calories tracking feature allows you to monitor your daily intake, making it easier to achieve your health and fitness goals. Additionally, with the built-in intermittent fasting function, you can effortlessly adopt and personalize fasting schedules like the popular 16:8 or 5:2 methods. Bravarb supports you on your journey towards a healthier lifestyle by integrating fasting routines with your grocery planning.
Conclusion
Embrace Bravarb as your ultimate productivity companion, empowering you to efficiently manage your lists, plan meals, track calories, and incorporate intermittent fasting. Experience the convenience of having all these essential functions in one user-friendly app, designed to optimize your time and support your well-being.
Download Now

Download Bravarb now and embark on a transformative journey towards enhanced productivity and healthier living. Let Bravarb be your trusted partner in streamlining your daily routines and achieving your goals with ease.