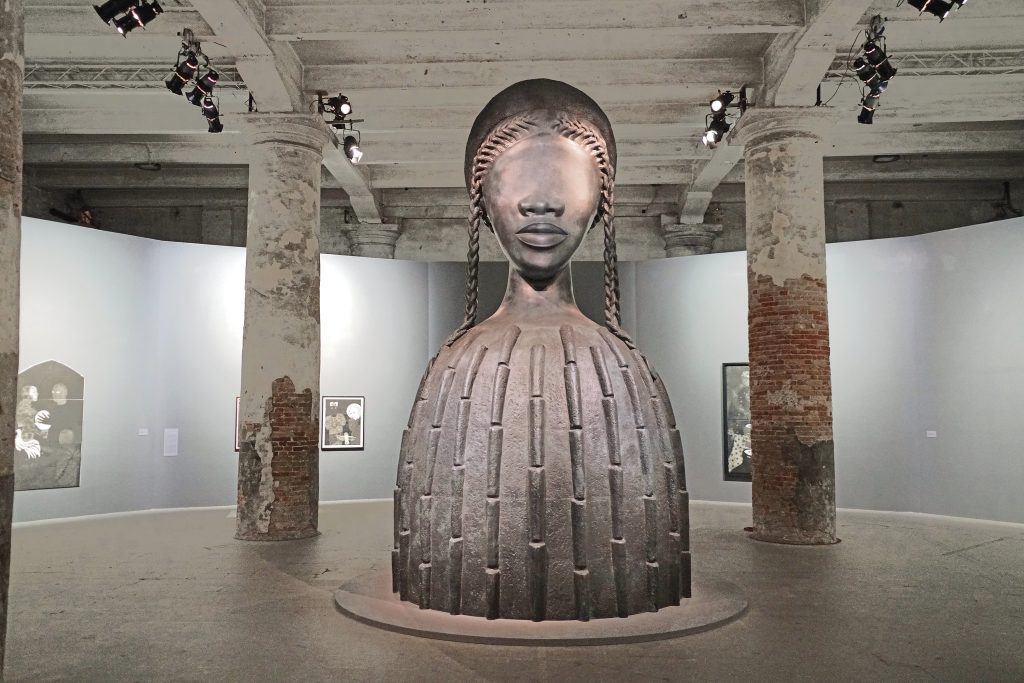 Contemporary sculpture as a medium serves as a potent canvas for artists to unleash their imagination and draw viewers in with provocative storylines. Alongside the innumerable great people who have impacted the world throughout history, contemporary artists have established themselves as visionary storytellers.
Specifically, the unique creations of black female artists challenge norms and spur change. Simone Leigh, Nandipha Mntambo, Lubaina Himid, and Wangechi Mutu are honored for their outstanding work. Each of them is a tribute to the creativity, fortitude, and tenacity that cut through generations and cultural boundaries.
Simone Leigh
Simone Leigh, an American artist of Jamaican and Trinidadian descent, has garnered global recognition for her striking sculptures that delve into themes of race, gender, and community. Drawing from her African and African-American heritage, Leigh creates pieces that exude a sense of ancestral wisdom while addressing the complexities of modern identity.
Leigh's interest in ceramics stems from its historical significance in Africa and the African diaspora. The tactile nature of clay allows her to infuse her sculptures with a palpable sense of life and history. One of her notable works is "Brick House," a 16-foot-tall bronze bust adorned with a hybridized form of a skirt and a West African "boli" clay house. This iconic sculpture was exhibited at the High Line in New York City, making it a monumental representation of black female strength and presence in the public sphere.
Beyond her artistic practice, Simone Leigh actively engages with her community. She founded the Black Women Artists for Black Lives Matter collective, an intersectional platform that supports black women artists and addresses social justice issues. Through her art and activism, Leigh amplifies the voices and experiences of marginalized communities, bridging the gap between art and societal change.
Nandipha Mntambo
Hailing from South Africa, Nandipha Mntambo's sculptural creations explore the intersections of identity, femininity, and metamorphosis. Mntambo is known for her innovative use of cowhide, an unconventional medium that becomes a vessel for profound storytelling.
Growing up in Swaziland, Mntambo was exposed to cattle culture, and this influence is evident in her works. Her sculptures often take the form of female bodies, simultaneously alluring and disconcerting, as they navigate the delicate balance between human and animal attributes. "Europa," a series of life-sized cowhide sculptures, presents the artist in various mythological roles, reimagining the narratives to challenge established power dynamics.
Through her art, Nandipha Mntambo confronts colonial legacies and their impact on contemporary African society. Her work transcends borders, engaging audiences worldwide and igniting discussions on cultural identity, migration, and the complexity of belonging.
Lubaina Himid
Lubaina Himid, a pioneering artist from the UK, holds a significant place in the Black Arts Movement. Through her sculptures and various other artistic endeavors, Himid confronts colonial histories and exposes the erasure of black contributions to cultural and historical narratives.
Using found objects and materials, Himid's sculptures embody a multi-layered approach that encourages critical thinking and self-reflection. Her "Swallow Hard: The Lancaster Dinner Service" is an art installation that reimagines a historical porcelain dinner service once owned by James Gillray, a prominent British caricaturist known for his racist caricatures. The installation disrupts the traditional notion of a decorative table setting, replacing the ceramics with portraits of black individuals who were present in Georgian England but often erased from history.
Himid's work extends beyond the art world. As a curator and professor, she actively advocates for the recognition and promotion of black artists, challenging institutions to diversify their collections and exhibitions. Her commitment to advancing the representation of black voices within the art world makes her an influential figure in contemporary art and activism.
Wangechi Mutu
Kenyan-American artist Wangechi Mutu creates sculptures that challenge the boundaries of identity and the power structures imposed on women. Her mixed-media works incorporate elements of collage, exploring themes of sexuality, gender, and the commodification of the female body.
Mutu's sculptures are often surreal and provocative, amalgamating organic and mechanical elements to represent the intricate layers of identity. In her "Water Woman" series, she reimagines the female figure as an ethereal entity, referencing mythological narratives of water spirits present in cultures worldwide.
"The End of Carrying All" is another significant sculpture by Mutu. This arresting installation, presented in Venice during the 2019 Biennale, portrays a female figure laden with various objects and symbols. Through this work, Mutu critiques the burden placed upon women to bear the weight of societal expectations and challenges the objectification of the female form.