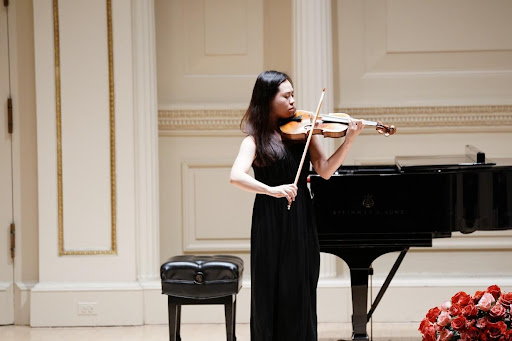 While the music industry continues to produce incredible talent, it's quite a rare treat to see individuals who harness a combination of skill, excellence, knowledge, and experience. Yunghsuan Lo is among those exemplary musical minds whose journey is rife with passion, patience, and sheer perseverance. 
A gifted violinist, Lo has beautifully demonstrated her yearning for greatness in the musical world and has earned many accolades. As an active soloist, orchestra professional, and chamber musician, Yunghsuan has a diverse array of global ensembles to her credit, which includes playing for orchestras in the US, Germany, Colombia, and Taiwan (her home country).  
Yunghsuan Lo's remarkable journey is marked by outstanding accomplishments showcasing her extraordinary musical talent. Emerging from a family deeply rooted in musical traditions, her destiny as a musical prodigy was evident from an early age. Beginning her musical odyssey at just six years old, she embarked on a path of violin and piano mastery. This dedication led her to clinch remarkable victories, including the coveted New York Golden Classical Music Awards in 2022 and the esteemed 2019 American Protégé International Piano & Strings Competition. Lo's consistent practice and unwavering commitment bore fruit as the years unfolded, propelling her toward becoming a seasoned and accomplished musician. In a defining achievement last year, she proudly attained her doctoral degree in Violin Performance from Michigan State University, solidifying her status as a true luminary in classical music.
Currently, Yunghsuan is showcasing her musical talent while performing as a violinist for the Grand Rapids Symphony", which undeniably serves as a testament to her dedication and perseverance. Yunghsuan also has extensive experience as a soloist, having brilliantly performed "The Lark Ascending" by Vaughan Williams and "The Four Seasons" by Vivaldi at the Taipei Zhongshan Hall. Lo was also handpicked to perform in the Taiwan Connection Chamber Orchestra, organized and directed by Nai-Yuan Hu, an acclaimed violin virtuoso.
Yunghsuan's career as a chamber musician is also nothing short of deserving, having performed in collaboration with globally acclaimed musicians such as Dmitri Berlinsky, Richard Sherman, Suren Bagratuni, Nai-Yuan Hu, Chen-Yu Huang, and the Dali String Quartet. 
Complementing her performance achievements, Yunghsuan has also made an incredible contribution as an experienced violin instructor. She is passionate about imparting her knowledge and experience to young and aspiring violinists and musicians. One of the recent highlights of her career in education was Yunghsuan's appearance as a guest artist at Bard Music Colombia, collaborating with faculty and students. 
Aside from pursuing her musical ambitions, what also sets Yunghsuan apart from the rest is her in-depth connection to her native heritage and culture. She has an immense love for Taiwanese Hakka music and folk songs. Currently, Lo is also working on a profoundly interesting project where she's compiling a variety of Taiwanese folk music and is reimagining them through the violin. 
The album is in the works and will soon be released with the help of global music streaming platforms. It's a majestic attempt to introduce the essence and lure of Taiwanese cultural music to the world, highlighting the importance of blending different cultures and bringing people together with the power of music.
Contacts
Company: Yunghsuan Lo
Website: http://www.yunghsuanlo.com/
Personal Email: admin@yunghsuanlo.com
Contact Person: Sandy Lo
Contact No: (352) 507-9470
City: Grand Rapids
State: Michigan
Country: USA